RISK FREE60 day money back.
Satisfaction guarantee
SIMPLE INSTALLATIONComes with everything
you need
FAST SHIPPINGDistribution Center In
New York State
2 YEAR WARRANTY100% risk free,
we stand behind our product
How it works
Every Uniden® Cellular Signal Boosters requires a signal antenna, coaxial cable and distribution antenna to complete the cellular booster solution.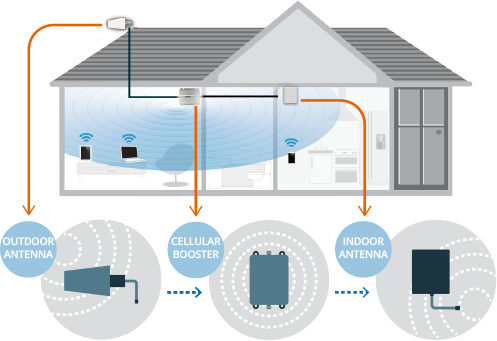 The Outdoor Antenna captures the cellular signal from the outside of your building and sends it into the Cellular Booster.
The Uniden® Cellular Booster amplifies your signal and sends it to your Indoor Antenna.
The Indoor Antenna distributes your new strong signal in your troubled area, so you can enjoy crystal clear phone calls and lightning fast data speed.
Success stories

"Thank you Uniden for making a great product!! As soon as we hooked up, we watched our signal grow immediately!! Best investment ever!"
Tammy R

"Just finished installing my booster kit. Went from 0 to 2 bars signal to 5 bars anywhere in our house. Now to tell Bell what they can do with their over priced land line."
Gordon L
> read more
GUARANTEED TO INCREASE YOUR SIGNAL
Click here to try any booster for 60 Days Risk Free EXPLORE SOLUTIONS